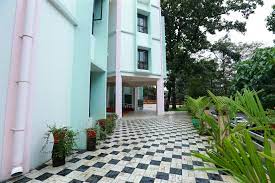 The Cochin University Library was established in 1974 as a central agency for meeting the information requirements of the academic community of the University and for the collection, organization, and dissemination of information. Being the heart of a science and technology university, the Cochin University Library has been exploring all the possibilities and advancements of technological applications to transform itself from a conventional library to a most modern library.
The library became the first university library in the state of Kerala to be fully automated in the year 2000. Located centrally on the campus, the resources of the library are open to all the departments of the university. One of the best libraries of science and technology in the country, the university library also maintains a balanced collection of books for general reading and references. At present, the collection exceeds 1,34,000 inclusive of several valuable reference books, doctoral theses, and back volumes of periodicals, patents, CD-ROM, etc.
The Library offers Loan service, Inter-Library Loan, Literature Search, Compilation of Bibliographies, Reprographic Service, Conference Alert Service, New Addition Alert Service, and Consultancy Service. The library has campus-wide- IP enabled access to a wide range of electronic databases, e-journals, and online books which in turn assist the productivity of the university academics to a great extent.
The Library provides access to around 45 print periodicals, 15,000 online journals, and 11 subject-specific databases, 1490 e-books. The Academic community of CUSAT can access e-books, theses database, journal databases, e-journals, and other e-resources from any terminal within the University campus. Online access is also provided to citation and Scientometric databases such as Scopus, MathSciNet, and Web of Science The library also facilitates access to a number of electronic journals through its participation in the consortia -E- ShodhSindhu, a project initiated by the MHRD and executed by INFLIBNET. Under this consortia, electronic full-text access is provided to the scholarly literature of all major areas of learning like Taylor and Francis; Springer Nature, American Institute of Physics, Oxford University Press, JSTOR; Web of Science...etc. Members can avail the service of DELNET, UGC-INFONET, and JCCC portal (an e-journals gateway to Indian Universities & Colleges) which also provides Inter Library Loan between various Universities in India.
In the year 2010, the library shifted to an open-source platform, KOHA for library automation. The bibliographic records of books, journals, and theses in the Library can now be accessed globally through the web OPAC facility. The library has also developed the Union catalog of all the libraries in CUSAT.
The library houses an Institutional Repository "Dyuthi", supported by the Department of Scientific and Industrial Research, where the research publications and Ph.D. theses of the University are available online to the public. It also provides access to the institutional research output of the University such as scientific publications, conference E-proceedings, multimedia contents, etc.